COUNTY COMMISSIONERS APPROVE HATCHETTVILLE (WE'RE DOOMED)
May 13, 2014
Gene Lowenthal reports: As expected, the Commissioners accepted the Masonwood Master Development Plan, claiming that thry do not have the authority to withhold acceptance given that Masonwood is abiding by the basic County subdivision rules (the County has no authority to restrict density, for example).
Now I'm no expert, but it seems like there must have been some grounds on which they could have done something to keep this oversized, out of place, environmentally insensitive monstrosity from invading our world. Just sayin'...
BAD NEWS ON THE HATCHETTVILLE FRONT
January 11, 2014
Yesterday morning, the board of directors of the elegantly named Western Travis County Public Utility Agency (WTCPUA), which is the local water utility, met and did the unthinkable. They agreed to allow the Masonwood West (AKA Hatchettville) development to receive water for an obscene number of cookie-cutter homes on miniscule lots.

As currently platted, the development would contain over 1600 homes on city-sized lots, creating a suburban-style environmental and traffic nightmare for our little corner of paradise. The Bee Cave Bee has been providing excellent coverage of the issue. Here is their latest article about it. Another good source of info is a website called HPR Matters.

If you really want to dig down for a historical perspective on our struggles to hold back rampant development here along Hamilton Pool Road, scroll down and start reading. You'll find lots more on the Developments page, Hearings page, LCRA Pipeline page and a whole mess of stories on the Archives page. It's been a long struggle and it ain't even close to over yet. Why is it that people look at the Hill Country and say "Now there's a gorgeous place, how can we destroy it?"

John Hatchett, the owner of the property on which the insane "Hatchettville" development is fixing to sprout, was once one of our allies. He stood shoulder to shoulder with us in opposition to another development that would have intruded on his personal paradise. We lost that battle and I guess John just doesn't care anymore. He, and his co-conspirator Jim Meredith (of Masonwood) are now of the irresponsible development, "who cares" school of neighborhood destruction but hey, profit is what really matters, right?
BAD WEBMASTER HAS IGNORED THIS SITE
November 15, 2013
Hard to believe that someone could be such a slacker, but here I am, in the flesh. My apologies, friends and neighbors, for ignoring this site for the past 3 years. My excuses are weak and I won't even try to pardon myself by bringing up my bouts with Hodgkins lymphoma, spine surgery, nerve problems (I've always had a lot of nerve, people tell me) and a brain tumor, although some might consider them legitimate excuses.

Much has happened (outside of my physical problems) since I last published here. We've had big fires, the usual floods (see below) and other natural challenges but the biggest challenge to our peaceful, country way of life has been of the human kind. People love this area and it looks like they are trying to love it to death. Since I started this website in 2004, we have been threatened by waterline promoters, road and bridge "improvement" promoters and greedy developers. Now, even more dense development and a car dealership are the two current bogiemen and they are doosies.

It is too depressing for me to go into the details but, fortunately, other people are making noise and joining in the fight. Some of those people have taken on the task of getting the word out and I want to applaud and thank them profusely.

For starters, Hugh Winkler started the HPR Discuss listserv some years ago and has since migrated it over to a Google Group, which is at hamilton-pool-road@googlegroups.com

Now there is a new website called HPR Matters, which is at http://hprmatters.com, which focuses on fighting dense development.

There is also a website in opposition to the proposed Covert car dealership in Bee Cave, which can be found at http://nocovertinbeecave.com. And there is a rapidly growing Facebook group with the same name. Look it up.
GOOD NEIGHBOR AWARD GOES TO GOOD NEIGHBOR JAN
September 9, 2010
The County probably would have taken a week to get a loader out here to clear the mud left at Hammett's Crossing by yesterday's flood. But fear not, here comes Jan Wolfe to the rescue. And Dave Boyd must be one of the luckiest guys around because he was just innocently coming across from the other side and would never have been able to make it up the hill through that mud if not for Jan and her tractor. THANKS JAN!
JOHN AHRNS GIVES HIS LAST WESTCAVE PRESERVE TOUR
January 31, 2010
Today, local treasure, teacher, naturalist, area historian and guardian, and our friend John Ahrns led his last official tour of Westcave Preserve for an enthusiastic group of neighbors and well-wishers. John is retiring and moving away, and he and Brenda will be missed by us and all the neighbors out here. Here are a few pictures of John on his last tour.
PART OF WESTCAVE CLIFF FALLS OFF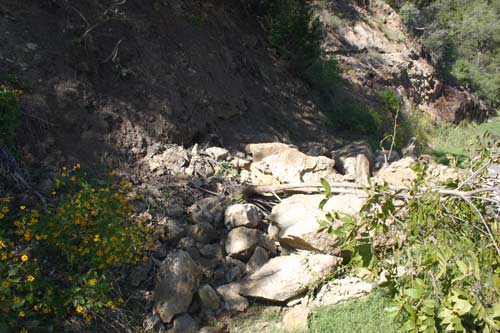 October 27, 2009
I guess the heavy rains were too much for these rocks on the edge of Westcaves cliff overlooking Hamilton Pool Road. Some time this afternoon, they came down and took this small pecan tree with them.
COUNTY DECIDES TO POSTPONE HAMMETT'S CROSSING REVISIONS INDEFINITELY
October 2, 2009
The following email was sent out today by Steve Manilla, the Travis County engineer who had been driving the movement to modify the Hammett's Crossing bridge. This is reason to rejoice. The plans have been put on hold. Only problem is that those plans may rear their ugly head again one of these days so we must remain diligent. Just to make sure our position is clear, please sign this petition and send it back to the address on the bottom. If you signed a petition a year or two ago, please still sign this new one, which asks that our beautiful, historic bridge just be left alone, exactly as it is. I will deliver the signed petitions to our County Commissioner, Karen Huber. Thanks for your support, now, here's what Steve Manilla wrote:
Today I was advised by TxDot that they are discontinuing work on projects that they are fairly confident won't be funded for construction for two or more years. They identified the Hammetts Crossing bridge as one such project and TxDot staff will therefore not be available to evaluate design alternatives or respond to design questions until the project is funded. After speaking with Commissioner Huber, we have decided that we will also stop work on the project. Therefore we won't be meeting on October 7 at the site or on November 4 at Westcave Preserve.

The question of the safety of the bridge has been discussed throughout our communications and I'd like to make it clear that the bridge is structurally safe. It was examined by TxDot to determine if it is sound enough to be incorporated into the project by widening it, and it is. The narrow deck width and lack of bridge rail and guardrail are traffic safety hazards that will eventually be corrected. For those interested in learning more about safety standards for bridges they are based upon design guidelines developed by the American Association of State Highway and Transportation Officials (AASHTO).

Conditions will naturally change over time and the bridge will continue to be inspected at two year intervals but unless the bridge becomes structurally unsafe our work on it during this delay will most likely be limited to removing debris and repairing damage caused by flood events.

The switchbacks and overtopping frequency are safety issues that would need to be addressed through a separate County project. The County's 2005 Bond Referendum provided funds for the design of safety improvements for Hamilton Pool Road between RR12 and the river. When we start into that process next year we will take a closer look at what it would take to correct these issues, but as mentioned in my September 22 e-mail, I think it will be difficult to justify the expense. The community will be invited to participate in the design process for the safety improvements.

Please don't hesitate to contact me if you would like to discuss this further.

Steve Manilla
TNR Public Works
854-9429
YET ANOTHER IDIOT TRUCKDRIVER IGNORES THE SIGNS

September 30, 2009

The guy driving this enormous truck somehow thought he could make it around the curves and across the Hammett's Crossing bridge. While he was waiting for help to arrive, I asked him if he had missed the signs starting two miles back, warning against attempting it. He said that he had seen the signs, whereupon I inquired as to whether he just didn't think that those signs applied to him. His excuse was that he "had no place to turn around."

My opinion is that there were at least two places he could have turned around. But I also think that at least part of the problem is poorly placed signs. I've spoken with Travis County Traffic Manager David Greear about it and he was very friendly and agreeable. Now let's see if the signs get moved.
PEDERNALES ELECTRIC COOP REFORM EFFORTS GET THEIR OWN PAGE
September 19, 2009
OK, it's taken me a while but I finally got around to doing something with this website. You can see that, up to now, my most recent post was in February. Maybe I'm back. We'll see. Meanwhile, if you would like to review all the articles I posted here since the PEC struggles started unfolding in 2006, go to the PEC page. To look at other old articles that have been removed from this homepage, please go to the Archives page.
HAMILTON POOL DECLARED ENDANGERED (BUT THEN, WHO DIDN'T KNOW THAT?)
February 11, 2009
This morning a press conference was held on the Capital steps by an organization named Preservation Texas. At that conference, it was announced that Hamilton Pool has been declared one of the 11 most endangered sites in Texas. The endangered designation was applied for by HPR neighbor Nell Penridge. Here are some pictures I took at the event. And you can click here to download a small MP3 audio file of Nell's speech. Way to go, Nell!
AUSTIN'S STILL WEIRD - FIRST NIGHT 2009 PROVIDES FURTHER EVIDENCE
January 2, 2009
Call me kooky but I love a parade - always have. I dig the color, the spectacle and even the corny home town folksiness. I get off on seeing the delighted faces of the kids who watch and participate in them. Ages ago I played drums in the Westbury High School marching band. I took a break from marching for about 44 years but, for the past couple of years I've been playing occasionally with a loosely organized, traditional New Orleans style assemblage - mainly during a yearly peace parade called the "Million Musician March". Here's a pic, taken before (or maybe after) the 2007 march, of me playing along with my friend, singer-songwriter Frank Meyer (playing guitar), the incomparable Oliver Steck on accordian and the magical Richard Bowden on fiddle (I don't know the other guy).
This year, I joined the newly-formed Blozn Tuches Marching Band (organized and directed by Datri Bean), which marched as part of the Grand Procession in Austin's "First Night" new years eve celebration. We were integrated into the Austin Bike Zoo's amazing bicycle powered animal contingent. Since I was marching, I didn't get to shoot any pix or video but I did take a few quick stills of some fellow band members at the dress rehearsal. I also shot this video of the rehearsal before I put down my camera and picked up my drum.
Along with the spectacular parade, which I didn't actually see (I mainly saw the back of Thomas, the baritone sax player), there were many musical acts, dance performances and art works created specifically for the event. Most notable for me was the Resolution Clock - a huge (34' tall,) wooden, fully functional clock, that was painstakingly built by 30 people over a long period of time. People were asked to write their resolutions all over the clock. Here are 2 pix I took of the clock before the parade. Then, during the celebration, this amazingly detailed instrument was torched. Fireworks shot out of it and then, in the "burning man" tradition, it burned to the ground. I didn't shoot it but somebody posted a YouTube video of the burn. You can find out more about all the events and installations from the First Night website.
NEIGHBOR HENRY BROOKS WINS A ROUND IN BATTLE WITH CONOCO PHILLIPS
February 20, 2008
Since October, Henry Brooks has been trying to keep Conoco Phillips from doing more extensive pipeline maintenance at the valves they have on his land along RR12. Back then, I posted a report with photos and video, showing the work being done and the impact it was having on the land. Recently, Conoco Phillips had sent their condemnation man up from Houston to offer Henry a payment to give the company more access and allow another major maintenance procedure to be done. Well, Henry just called to tell me that the condemnation man came back yesterday to inform him that they would not be doing the work at the valves on Henry's property afterall. They will. instead, be doing it from their valves in Johnson City. Chalk up a win for the Barton Creek watershed, which will now not have to be subjected to the presence of all that nastiness.
TRAVIS COUNTY COMMISSIONERS CONSIDER REQUESTING DOWNSIZED WESTERN HPR
February 13, 2008
Yesterday, at the Travis County Commissioners Court meeting, item 20 on the agenda was consideration of a proposal by Public Works Director Steve Manilla. Manilla was suggesting that maybe the Commissioners should ask CAMPO to revise their plan for a 4 lane road all the way to the Blanco County line and instead end the 4-lane at the still non-existent Reimers-Peacock Road. Funny that Manilla should be doing this now since it is our understanding that he was the one who suggested the upgrade to 4 lanes in the first place. A bunch of neighbors showed up at the meeting and about 8 of us spoke, collectively making a strong case in support of an even more extensive downgrade, beginning at RR12. Here's more.
CONOCO PHILLIPS MAKES A MESS AT HENRY BROOKS' PLACE
October 26, 2007
The other day, Henry invited me over to photograph the mess being created by work on one of the pipelines that go through his property. It's not a pretty picture. Check out the story and the pictures here. I've also posted a little (1 minute 21 seconds long) video clip on Google Video. Henry's our own local movie star and he shines again in this video.
ANOTHER STUCK TRUCK AT HAMMETT'S CROSSING

October 4, 2007

What is it about truck drivers that makes them think they can take their big rigs anywhere they want? I hope this driver was severely punished (though somehow I doubt it) for ignoring the size limit sign before barreling down the switchbacks and attempting to cross the bridge. He got stuck here at about 4:00pm and they didn't get him unstuck until around 10:00 so many neighbors had an extra 45 minutes added to their afternoon commutes.

The officious Travis County sheriff's deputies wouldn't even allow anyone to park at the top and walk across the bridge so my rapidly warming groceries and I had to go back to the circuitous Fall Creek Road route (always a gorgeous drive, at least) and I missed my evening swim. Grrrrr!
GIANT CRANE DUMPS OVER ON HAMILTON POOL ROAD

March 19, 2007

Wonder how these wheels got in the air? Check out the story and pictures of the overturned crane.

Then check out one citizen's response with home made signs.
WANNA WATCH A MOVIE?
August 26, 2007
I have started posting some of my short video pieces on YouTube and have, for your viewing pleasure, created a page on this site where some of the videos are embedded. Go to my Videos page where you will be able to view "Texas Coal Wars (Part 1)" which was shot Tuesday. February 20th at the Travis County Courthouse. It tells the story of the citizens who got an injunction to stop Governor Perry's coal plant fast-tracking. On that page you will also find "River Glyph", "International Festival of Canoes" and other shorts. Or, you can go directly to my YouTube home page to view all the videos I have posted there. Enjoy!
IT'S SCARY - THE STATESMAN STILL LIKES MY LETTERS TO THE EDITOR
June 17, 2006
While I always like to see them in print, it makes me just a little nervous that the Austin American Statesman seems to select a my letters for publication fairly frequently. I only occasionally agree with the paper's editorial position and other oft-published letters come from the rabidly right wing Stavrovsky family. Am I unwittingly fitting in with their political agenda? Anyway, here's my (4th) letter that they published on June 14, 2006 along with the personal response I got from the reporter who wrote the article my letter referred to. March 18th's issue included this letter, my third that they've accepted, slamming the LCRA and it's iron-fisted honcho, Joe Beal. Other letters appeared February 22, 2005 and March 24, 2005, about which there is a short entry below.
TRUCK EN ROUTE TO MADRONE RANCH TURNS WRONG WAY AND JACKKNIFES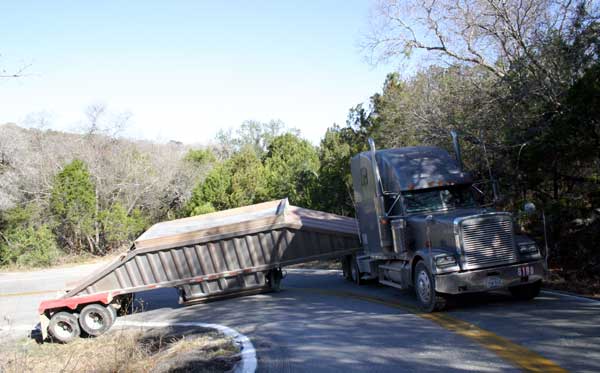 March 9, 2006
The truck drivers are blaming it on bad directions. Two enormous trucks on their way to Madrone Ranch via RR12 were told to go "6 miles past 12" on Hamilton Pool Road. They naturally assumed that meant turn left off of 12.
They discovered their mistake way too late and this truck turned around at Westcave Preserve. The jackknife happened when he was trying to make it back up the hill at the switchback just east of the Pedernales river. Of course, he should never have taken that oversized rig across the Hammett's Crossing bridge.
PEC POWER TRANSFORMER COMES DOWN - STARTS 30 ACRE GRASS FIRE

January 16th at about 11:00pm we heard the first siren go by. At first it was just an uh oh, an ambulance, someone's hurt. Then, when a procession of sirens shook us out of bed, we realized it was something bigger than that. At about midnight, our friend Hugh, who lives 5 miles to the east along HPR, called to say that there was a fire a quarter mile from our house. They could see the glow from their place. A few minutes later, our electricity went out. In a panic, Annie and I gathered up important papers and sped up the road, where we found that several fire departments had already gotten the fire under control and that sherrif's deputies had evacuated the few residents at Hammett's Crossing subdivision. Thanks to the quick response of the Hudson's Bend Fire Dept. from Bee Cave, Pedernales Fire Dept. out of Johnson City and a couple of others, all that went up was about 30 acres of grass - no people, animals, buildings or even trees were lost to the blaze. The fire, which burned parts of 3 adjacent properties, turned out to be, as Ted Stewart (one of the property owners) put it, "a perfect controlled burn." Relieved levity aside, with all the wind whipping up and down the hills, that might very well have not been the case. Way too close for comfort!

Despite the great job by the fire departments, a few embers had remained and were still smouldering the morning of January 18th. This caused another small fire to break out on Suzy Wolforth's place. Sherre Young caught wind of it and called the Hudson Bend fire guys back. They did a thorough sweep of the area (by daylight, this time). Here's hoping!

The next morning, a few curious neighbors showed up in time to help Ted rehang the heavy, steel gates, which the fire departments had to knock down in order to get into the Hammett's Crossing subdivision to work the fire and evacuate residents.
HOW MANY WRECKS IS IT GOING TO TAKE?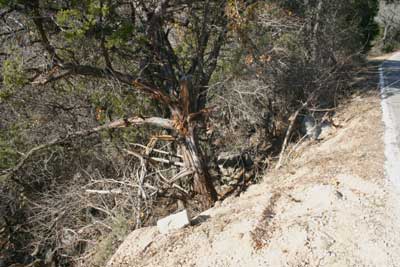 January 4, 2006
Though it's hard to tell from the photo, this big cedar got good and smashed New Years Eve. In fact, it was hit so hard that it moved a bit downhill. Fortunately, there was another tree just below it to keep it, and the vehicle that plowed into it, from tumbling down the steep, 100 (or so) foot drop. This is the second time in less than a month that someone went over the edge at this sharp curve near the top of the switchbacks by Norsworthy Ranch just above the Pedernales River. So far, there haven't been any (reported) deaths at this danger-spot but wouldn't one be too many? Seems like more urgent signage would help and probably a guardrail would do the trick.
ANOTHER HOG BITES THE DUST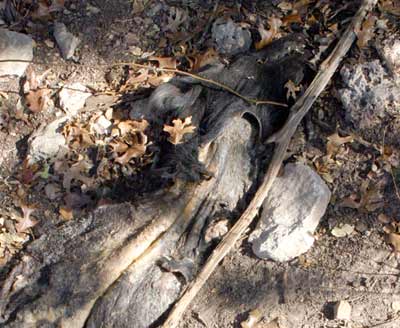 January 4, 2006
Now I guess nobody out here has any great love for these feral hogs that have been proliferating and digging up acreage. And I do understand (though I've never tried it) that they make good eating. But in the last two weeks, two more have shown up on the HPR roadside along our walk route. These have clearly been butchered by human hands. Again, I have no problem with people killing and eating the beasts but how about disposing of the carcasses in a less public fashion? This method exposes any innocent person happening by to the unsightly sight, disgusting stench and huge buzzard congregations that accompany any roadkill. Whoever is doing this, PLEASE STOP!
LCRA MISLEADS THE NEIGHBORS AGAIN - NO FIRE PROTECTION
While still not quite attaining "public enemy number 1" status, the LCRA seems to be vying for the title. Our diligent neighbor Gene Lowenthal dug up this little disclaimer on page 10 of their "terms and conditions for retail treated water" in our service region (Western Travis County):
Section 2.11. – Fire Protection
The primary purpose of the treated water system owned and operated by the LCRA is to provide treated water service to residential and Non-residential Customers. The LCRA does not guarantee the availability of water for fire protection purposes. Fire hydrants installed within the LCRA's distribution system are provided at the convenience of the LCRA and do not imply any responsibility on the part of the LCRA to meet fire flow requirements of local, county, state, or federal governmental agencies.
So, anyone suckered into signing up for the new pipeline's outrageously expensive water (we've heard costs as much as $10,000 for the tap and $75/month for basic service), in the hopes of getting lower homeowners' insurance rates, is in for a rude awakening. Instead of providing good pressure, LCRA has once again proven that they suck!
THIS JUST IN (12-9-05): The Statesman published my letter to the editor on the above subject. Here's the letter.
SUPPORT LOCAL TREASURE WESTCAVE PRESERVE
If you haven't had the Westcave tour, you are missing something wonderful. They're open to the public on weekends. You might want to take a look at the Preserve's website. Check it out at www.westcave.org.
LOCAL GROUP CREATES ANDY GOLDSWORTHY TRIBUTE ON PEDERNALES
River Glyph, an informal group of neighbors and friends got together on New Years Day, 2005, to create several pieces of "beach art" here on the river. To get a gander at what we did, go to the BeachArt website.
SUSAN LEE SOLAR
December 30, 1941 - February 13, 2002
It was 7 years ago February 13th that our dear friend and neighbor, environmental and anti-nuke activist, anti-death penalty activist, artist, green building enthusiast, teacher, former Texas gubernatorial candidate (against George Bush) and all around sweet and wonderful person, Susan Lee Solar, died. We will never forget her and all she did for us and for the Earth. Please visit the memorial website Annie and I built for Susan. Please also check out her book on the death penalty in Texas which was completed posthumously by Susan Bright and a group of Susan Lee's friends and family. It is entitled "No Justice: No Victory - The Death Penalty in Texas" and is available from Plain View Press.
TXDOT PLANS FOR 20,000 HPR CAR TRIPS PER DAY (OY VEY!)
Gene Lowenthal wrote on 10/22/04:
Yesterday some of us got to hear a presentation from TxDot. Part of what they do is integrate population planning studies into a growth projection for various areas, and then translate that into expected burdens on various roads.
We got an earful of what would happen in our area over the next 25 years if the only forces at work were market forces. Daily car trips on 71 where it crosses 620 would increase from 40,000 today to 106,000 in 2030 - about as much as MoPac handles today. They figure that the eastern portion of 71 will need to be a six-lane expressway by that time.
The eastern stretch of Hamilton Pool Road would grow from 6500 trips per day to 20,000 trips by 2030 according to their studies. At some point, they say, HPR will need to be widened to 4 lanes and maybe straightened to accommodate such a load.
As the saying goes, "sprawl happens", which is to say that it goes where the market takes it. We need to have a "smart growth" concept in place in Southwestern Travis County so that sprawl doesn't happen here.
HAMMETT'S CROSSING IS NOT PASSABLE
(as of Wednesday, 5/28/14, 12:00 noon)
You can check the flow yourself. Go to http://waterdata.usgs.gov/tx/nwis/uv?08153500
If the flow is 800 cfs or less, chances are you can safely cross the bridge. This is not an absolute. You can certainly not trust the sign in front of the County maintenance building at the foot of Hamilton Pool Road. They tend to put it up late and leave it up long after the bridge is clear. And, when Lake Travis backs up to Hammett's Crossing, all bets are off.

Here's a tryptic of 3 images shot within an hour and 50 minutes of each other, from dry to covered. Powerful river, eh?
View archived Hammett's Crossing pix on the Hammett's Crossing page.