Well, it's been quite a while since we've posted a newsletter for friends and family. We've been busy as usual but that's no excuse. Nevertheless, please let us catch you up on what's been happening in our lives. Here's hoping that you had a wonderful holiday season and that 2007 was good to you. Outside of concern about the rapidly degrading environment and all the war and nastiness around the world (much of which is the result of actions or inaction by our country's idiotic and criminal administration), the past year brought good fortune and considerable joy to our little family.
Please note that the pix on this page are optimized for the web but not really suitable for high quality printing. If there are any you might like to make prints of, please let me know and I'll email you higher resolution versions.
| | |
| --- | --- |
| | |
| The best news of all is that we welcomed Lucy to the family on November 3rd. She came 5 weeks early but still tipped the scales at 6 pounds, 6 ounces and was 21" long. Imagine if she had stayed in there until her due date - would have been one very big little girl. This was taken when she was one week old and still in the NICU. She got out soon thereafter and is now doing great and eating almost constantly. | Christmas day at Reed and Lisa's house - Lucy, of course, the star of the event. Her parents and big brother Zac are, naturally, totally devoted and oozing love for Lucy (who wouldn't be?). Of course the proud grandparents are no slouches in the goo goo department either, nor are our new machatenim, Lisa's mom and stepdad Turid and Phil. Lisa is doing fine despite incessant nursing that the tyke demands. |
| | |
| --- | --- |
| | |
| Moving backwards through the year, the next big event was our wonderful grandson Zac's upgrade into double digits. And on December 9th we threw him a party out here at the Pedernales Palace. Annie made a custom monogrammed bag for each kid and we set them loose on the beach to hunt rocks. The boys found bones much more fascinating. | Emma, the one girl in the group, took the rock hunting seriously. The boys, on the other hand, soon started chucking rocks into the river (some skipped, some just lobbed). After the rocks were gathered, we played croquet on the beach - not actually the best surface for croquet but we made a "house" rule that you could smooth out a path for your ball. |
| | |
| --- | --- |
| | |
| Emma smooths a path while Preston plans his strategy. | Carter may be a bit confused about the game's objective. |
| | |
| --- | --- |
| | |
| Here's a goofy birthday tradition that is Zac's and Zac's alone (I hope). He likes to smash a pie in his own face. Go figure. Annie provided a whipped cream pie. Quel mess! | Now this is grampa's raison d'etre - being with his two favorite kids in the whole world (once they are sans whipped cream, of course). Check out Lucy's snappy salute. |
| | |
| --- | --- |
| | |
| For his birthday, we gave Zac a kayak of his own. We hid it carefully, deep in the woods and then gave the kids a series of clues to get them from place to place, and finally to the kayak. Of course I had to videotape the hunt. Above is the family watching the video for the first time after our Xmas pig out (a yummy and opulent Mexican feast made by chef Reedo). The edit runs around 17 minutes. If you want to see it, you can hit me up for a copy of the DVD, or you can watch it on-line here. | For Thanksgiving, Annie and I actually made it to N.Y. and had a great time with sisters Rebecca and Faith and their families. Becca is pictured above during a quiet moment in the Maybloom domicile - a moment when those two cute but very shrill doggies are outside. |
| | |
| --- | --- |
| | |
| Here's brother-in-law Nate in a characteristic pose - in the kitchen. He was a terrific host and cooked up a variety of delectable dishes for our Thanksgiving dinner. What's with the men in this family? We all like to cook. (Now I'm hungry.) | It was great to see cousin Laura who came all the way from New Jersey to have breakfast with us before we left for Kennedy airport. (What a nightmare getting to the terminal was, but don't get me started on that.) |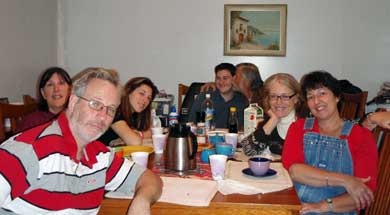 Left to right: Becca, Nate, Niece Olivia, Nephew Matt (being kissed), Ric (kissing), Annie and Laura. Faith Morty & Kat couldn't be there (but were for Thanksgiving dinner). On the Friday after Thanksgiving, Annie and I took the subway into Manhattan and spent some time in the new (to us) MOMA, where we were blown away by the lavish exhibition of Martin Puryear's incredible, sometimes huge, mostly wooden sculpture. Then on Saturday, Bec, Nate, Matt, Annie and I crammed into the clown car and drove out to Long Island for a nice visit and dinner with Aunt Ruth and Unk Justin at their favorite Chinese restaurant.
| | |
| --- | --- |
| Back in July, we had a nice visit from our nephew, Ray and neice in law, Souhir. Ray is Annie's sister Tanya's oldest of 3 sons. They were in the States briefly from Singapore, where Ray had been working (for Microsoft). We are happy to report that they are now living a lot closer (well, Seattle) and Souhir is very near delivery of our grand-neice. This is a recent pic that Souhir sent us - looking pretty good for seven months pregnant, eh? | |
| | |
| --- | --- |
| | |
| This past May, Annie and I had an enchanting vacation in France. We soaked up the scenery, ate fabulous food and met wonderful people. St. Cirq Lapopie was just one of the many spectacular, ancient places we visited. The entire country is incredibly photogenic and, naturally, we took about 1,000 pictures. Maybe someday I'll post some and send out the link. Meanwhile, you'll have to settle for these two. | This one's Beynac where, among other unforgettable activities, we had a little canoing adventure on the Dordogne River. Each B&B we stayed in was more charming than the last as we hopped from town to town in the southern part of the country. Some of the stops were in Arles and other places of Van Gogh fame. Every place was artistically inspirational, not the least of which was our last week which was spent in Paris, which we adored and enjoyed the amazing museums. |
| | |
| --- | --- |
| | |
| Annie came home from France so inspired that she has started painting again after a 29 year hiatus. | And where she is doing that painting brings us to another significant activity of the past year. |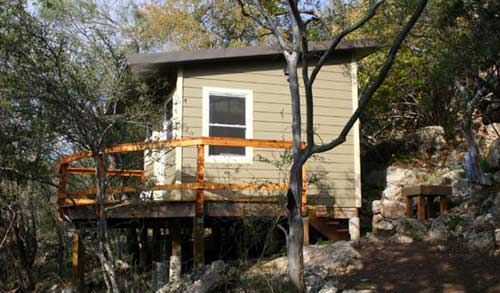 This is the "Treehouse". It's not really up in a tree but is situated on the side of a hill down in the woods below our house and it feels like it is in the treetops. Annie and I shlepped all the materials (including 65 bags of concrete) down a treacherous path and built this little building ourselves, pretty much just the two of us. We did get a little help from Reed, who helped us bring the plywood and roofing materials down, and from our friends Jim and Cindy, who spent a day with us framing the first wall. Oh yeah, cousin Billy Feitelson helped with the outdoor sink you see on the right. We finished the construction in November of '06 (just before Reed and Lisa's wedding) and now Annie is happily painting away down there (and doing some very nice work, too).
| | |
| --- | --- |
| | |
| No newsletter would be complete without garden pix (you know how I love our gardens). Both upper and lower veggie gardens are doing beautifully. | The flower beds are still doing well, despite the 25 degree nights we've been having frequently. In fact, these still get a number of butterfly visits on sunny afternoons. |
| | |
| --- | --- |
| | |
| Here's the lower garden of greens - yum! | And here's what it takes to keep these gardens alive. Just about every night for a while now we've had freezes, some down into the low 20s, but the row covers seem to be enough to keep most of the plants alive. Here's hoping... |
Lest you start to think that maybe Annie and I have retired, you've got another think coming.

Annie is busily and happily teaching at ACC - generally two classes per semester. The courses have to do with 3D modeling, rendering, lighting and surfacing - all using 3D Studio Max software. She has been quite pleased lately with the great students she has had and the excellent work they have turned out.

I am always involved in some video project or another and have frequent web work to do for my favorite client - Century Management (www.centman.com). I have been producing their meeting videos for some time and this year added an additional client update event in November. There, for the first time, we did a live webcast which I am directing in the adjacent photo (taken by my sound engineer, David Barrow). Should you be curious, the webcast is archived here.

One more (not insignificant) story: Annie and I, along with several activist neighbors, great press coverage, the attention of a couple of legislators and a member lawsuit, helped to shine light on our very secretive, corrupt and entrenched Pedernales Electric Coop, the largest in the nation. We are proud to report that the top 2 officials are resigning and much needed reforms are in the works. As Margaret Mead once said "Never doubt that a small group of thoughtful, committed individuals can change the world..." It may not be the world, but we've had an effect on a little piece of it. The organization we started, PEC4U has a website which you can check out if you'd like to learn more (and read some of our press clippings).
With one victory under our belts, we are now gathering neighbors' signatures to protest a plan to build an unwanted, unnecessary, wider and higher bridge over our river. Such a bridge would not only open us up to development and traffic, it would also destroy and take some of our fragile land.
We are also working to stop the Capitol Area Regional Planning Organization's sick plan to make our beautiful country road into a 4-lane, divided highway. Arghhh! To find out more about both these campaigns, go to www.neighborsinparadise.org.
| | |
| --- | --- |
| Construction projects around the homestead this past year have included a new, ferrocement cistern which we had our friend Peter Loehmann build. Friend and neighbor Terry Henry finished the outside of the tank. That's him on the right. | |
A partially finished pond by the back porch awaits our attention. And out behind the compost bin a slab has been poured which will be something more some day. Watch future editions of this publication for pix and further reports.
Needless to say, with all the buzzing around here, we don't get out much. We are still in awe of this place by the river and grateful that we get to live here. And we feel most fortunate in having you, our friends and family.
Our only regret is that we don't get to see you nearly enough. So we send our love and wishes for a joyful, productive and peaceful 2008.
xoxoxoxoxoxoxoxoxoxoxoxoxoxoxoxoxoxox, Ric & Annie
And, if you are interested in previous postings, you'll find links to just about everything I have up on the web at our
Index of Sites.